Oddfellow's and the Haunted Moustache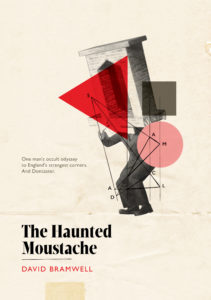 'There's a frost on the ground and a nip in the air…'
As winter grinds its teeth I thought I owed you all a review of 2016 for the band. While it's been a very quiet year for us on the gig front, in May we released an album: Dust, a compilation of cover versions, unreleased tracks from The Raven's Empire and alternative versions of such old favourites as Take Me Out to Sea and Wild Waters. Dust features collaborations with Steve Lewis (Fujiya&Miyagi), Andrew Philips (Grasscut) and is produced by Julian Tardo. There's even a few cover versions of songs by Magnetic Fields, Clearlake and Chimp.
For a signed copy direct from the band, follow links to our shop.
'Neurologically, this book will light you up like a Christmas tree'

Alan Moore
In July 2016, my second memoir, The Haunted Moustache was published. It is an occult coming-of-age story, an exploration into the nature of reality and an affectionate portrayal of England's rich counterculture. It's also possibly the world's longest explanation for how a band got its name. It tells the true story of Ambrose Oddfellow, a Victorian freakshow host whose performing group, Oddfellow's Casino, are where we took the name for the band. To buy a copy from Amazon, you know where to go. For a signed copy, please email me direct.
What do we have in store for 2017? Well a new album for starters: OH SEALAND is due for release in May. To coincide with the new album, we'll be doing our first live show in a while, as part of Brighton festival in May: a collaboration with Alan Moore, writer Iain Sinclair, John Higgs and a sea shanty choir. Watch this space.
May your nights be filled with winter creatures.
David Oddfellow